♥ ♥New Hair!!♥ ♥


Just thought I would show you guys my new hair and a make-up update. 
I have been very subconscious about the way i look lately, and this has made me feel so much better about myself. 
I know not everyone will like this look, but it is amazing for me. :)

And the make-up shot~ I like playing with more colors, with gyaru-eske looks.
Hopefully you guys liked it~
Till next time, stay inspired gyaru divas!!!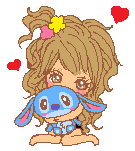 19 Aug 2012 @ 12:54AM /
4 notes
TAGGED AS:
gaijin gyaru
make-up
hair
teal
blue
circle lenses
fashion
japan